Welcome to Toujuushi Bestialious Wiki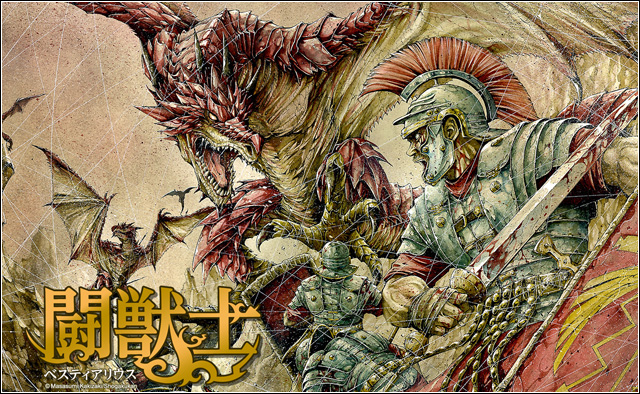 Manga Guide • Characters • Administrators • Recent Changes • New Photos • New Pages • Help Wiki
Welcome to the Toujuushi Bestialious Wiki, a Wiki dedicated to everything about the manga Toujuushi Bestialious that anyone can edit. Please help us by creating or editing any of our articles!

We currently have 855 edits to 46 articles and 142 images on this wiki.
Introduction
A.D 70 The mightiest empire Rome started conquering the world. The whole Europe was havocked by Roman's foot. In Ablion, in order to protect their homeland, the Bravest Wyvern fought a bloody battle against the invader...
The term Bestiarii (闘獣士) refers to those that fought against beasts, whether through voluntary combat or execution, during the Ancient Roman era. Bestiarius refers to a single Bestiarii.
Affiliates
If you would like to become an affiliate of Toujuushi Bestialious Wiki, contact us.
Poll
How would you rate the Oneshot?
Quick News
A 4th Episode will start in Shonen Sunday S in Issue 2016-01, released on December 14.
Chapter 1 (3rd Episode) raw is out! Volume 2 will be out in December 18, 2014. 3rd Episode will be 15 chapters long.
Toujuushi Bestialious 3rd Episode will begin in Issue 47-2014 of Weekly Shonen Sunday, released on October 22.
A 3rd Episode of Toujuushi Bestialious is announced to start sometime during 2014.
Volume 1 will be out in December 18, 2013!
Final Chapter 4 (2nd Episode) raw is out!
Chapter 3 (2nd Episode) raw is out!
Chapter 2 (2nd Episode) raw is out!
Chapter 1 (2nd Episode) raw is out!
A 2nd Episode short series of Toujuushi Bestialious will begin in Issue 36-37-2013 of Weekly Shonen Sunday, released on August 7.
Spring Season 2017 Anime Wikis

TV Anime


Multiseason


TV Shorts


Movies


OVA / ONA / Special

Ad blocker interference detected!
Wikia is a free-to-use site that makes money from advertising. We have a modified experience for viewers using ad blockers

Wikia is not accessible if you've made further modifications. Remove the custom ad blocker rule(s) and the page will load as expected.